Lynne Namka, Ed. D. is a Happy Psychologist in private practice in Tucson, AZ, and an occasional storyteller. Her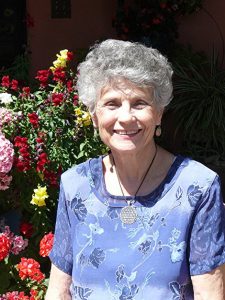 last three books are about finding and keeping love: Love as a Fine Species of Madness – which is a tear-jerker; the metaphysical fairy tale, Castalia Ever After; and the hysterically funny, feminist fairy tale, The Loathsome Lady: The Wedding of Sir Gawain and Dame Ragnell. Collectively, these three books take a hard-eye look at the wrong kind of loving.
Woven into the fabric of her numerous book and articles are models and metaphors of the science, psychology and the mystical spirit-world. Her writings contain ideas from Native American lore, Sufism, Buddhism and Taoism, with a basic overall Christian approach to becoming a kind, loving person.
The ideas in Lynne Namka's popular children's self-help books are based on years of working in programs for children with severe behavior problems. These books include Good Bye Ouchies and Grouchies, Hello Happy Feelings: EFT for Kids of All Ages, Parent's Fight, Parents Make Up and the best selling, The Mad Family Gets Their Mads Out. In addition, she has written several curriculums for therapists, teachers and parents to work with angry children and has a CD for children called Get Your Angries Out, which features anger management techniques.
Her award-winning web site, LynneNamka.com, features a write-in advice column for angry children and has over 300 pages of articles on anger management information. Her web site receives 30,000 hits a month. She has also written an inclusive book on Bullying called Bullies Need Help Too! – Lesson Plans for Helping Bullies and Their Victims.
One of her talents is translating the psychology research into everyday people-language, to provide practical ways of living a healthy life. Her light-hearted writings encourage the readers to be their highest and best self by using positive tools and techniques to work with their emotions. Her extensive research and writing has instilled a constant drive to practice what she "preaches."
I know the ways of the depths of the human heart and our longing for love. As a therapist I work with people who want love but try for it with the weapons of war—the ego and its defense mechanisms which separate us from others. Intimacy is a set of skills to be learned, which happens when we address our deepest fears. I love being a Love Coach! It's part of my job as a healer helping people address their unruly and aggressive feelings and the negative ways of coping with them. Life is a great, grand mystery and we are here to connect with each other in loving relationships. There is a science and an art to creating loving relationships and my writings combine the two with practical advice and some fun. – Lynne Namka, Ed. D.
---
– Books –
Tells about the soul-searching portrait of Janie Perkins who obsessively sorts through her haunting childhood memories to solve a long-hidden family murder. Janie, a vulnerable woman with grit and determination builds her life around, and then runs from, flawed men. This poignant psychological mystery has themes of loss, holding onto the first love across a lifetime and healing. This is bittersweet story of moving through the illusions of a never-to-be romance and finding an identity and place in the world. It is a life-affirming story of parental insanity, betrayal and redemption. So give yourself to love.
---
Is a tale of seeking true happiness written in the romantic language of long ago. Enchantments, riddles, metaphors, quests and a finding of the self through a long grueling search. In this universal story of the Heroine's Journey, Castalia seeks the answers to a riddle and faces the darkness of her own nature as well as supernatural adversaries. The wounded woman archetype on a healing journey is an allegory every woman can relate to. The tale uncannily cuts right to the heart of the reader in her own heroine's journey. The tapestry of myths and symbols woven into this parable gives insight into the intricacy of the human heart and the need to love and be loved and speaks to the healing of the collective unconsciousness in returning to the Divine Feminine.
---
Is a romp of a wicked and bawdy fable, the way a much-loved knightly tale should be, told by a wise-cracking storyteller who speaks of the great vexing of love. It all starts with a dire threat to have King Arthur's head. The grand and gruesome details of this oft-told-down-through-the-ages legend are all here: The Giant's churlishness and his ready battleaxe, the Good King's dilemma, the Old Hag's despicable appearance and her outrageous bargain, Gawain's chivalry and that most famous question of all: "What Do Women's Hearts Most Desire?" With these humorous challenges how could anyone ever get to their Happily Ever After? Need we say more? Well yes, and in this update of the old Welsh story of enchantment and disenchantment, you just might learn something that might be useful to you about breaking love spells and of the battle between the sexes which has been going on since time immortal but never won. Take heed, for if you are a man, our tale just might help you avoid an outbreak of that well-known malady—THE DREADED LUV PAIN!
---
Speaks to the questions – Too many sads, bads and mads at your house?  Too many pesky, annoying, baffling, depressing, maddening, bothersome and awkward feelings keeping everyone upset?   Are your child's out-of-control emotions making him or her and everyone else miserable?  The real truth about feelings:  Feelings are meant to be felt, then released!   If people would learn to feel their feelings and let them go, there would not be so much acting out and hate in the word. Typical children's problems are discussed as different parts of the personality with lightness and humor to help children understand themselves and want to change. The book teaches The Emotional Freedom Technique (EFT) which is a new, exciting, fast-acting approach to release negative feelings.  Acclaimed by therapists and thousands of people worldwide, EFT helps create a happier life.
---
Parents are angry and frustrated by the economy slowdown. Here is a book to help children deal with parents' conflict.
Today's children are more in touch with angry feelings, but don't know how to release them safely.
They feel helpless when overhearing family arguments and internalize anger. Children need skills to deal with parents' frustration and arguments which are more frequent during this poor economy. Developing life skills such as talking about feelings and using self-regulatory skills of anger management is necessary for good self-esteem.
---
This book offers new ideas and black and white cartoons to help both the bully and the victim! Practical ideas and activities from the latest worldwide research on bullying! Help children who bully recognize and break into feeling of their disgust and contempt that lead to harmful behaviors. Help your middle schoolers and teens learn strategies to control angry feelings and break into errors of thinking that it's okay to harass others because it feels fun. The lesson plans teach the values of respect, tolerance of differences, empathy and feeling good about stopping harmful acts. They foster kindness and expose children to the addictive feel-good emotions that being supportive with others bring. They give positive ideas with strategies for victims on building assertiveness and how to walk tall, deal with bullies and build confidence and good self-esteem. Included are fun cartoons of kids and teens to challenge teasing and harassment.
---