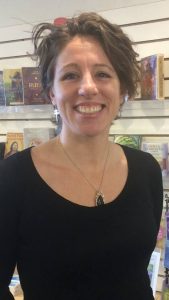 Tara Pobuda, C. Ht. is a Certified Hypnotherapist, Medical Intuitive, Spiritual Empath, Divine Tooling Practitioner, Sensitive Medium, Numerologist, and teacher of many spiritual practices.
As a Medical Intuitive, Tara has assisted many people challenged with disorders, including sciatic nerves, diabetes, fibromyalgia, cancer, and pain after surgery.
Tara has been a reader and practitioner of Metaphysics for most of her life. She can help you understand your current life lessons through a Tarot and Oracle reading, or she can conduct a Numerology reading that determines what situations and experiences you are often encountering through-out your life and how to handle these situations.
Your personal growth is Tara's primary concern, and she is here to assist you in bringing life-changing factors in perception to the forefront of your reality. Tara is pleased to share her own background story with you so that you can feel the warmth of her spiritual embrace.
Tara's Journey
My awakening truly began when I started to discover that I was not crazy. My journey in and out of psychiatric wards for years due to being a sensitive empath allowed me to see first-hand how many people remain misunderstood and hospitalized unnecessarily.
My final return to a counselor informed me that I am not crazy; I am an empath, which led to my awakening. The recommendation was that I should look into this subject matter. That day, I went home with acceptance in my heart and mind. The counselor quit her job working for the state, and now pursues her studies to further help others that remain misdiagnosed. I started to visit Metaphysical stores, where they found me to be a gifted individual. In truth, we all have gifts. We have the potential to heal ourselves. My story is coming from a woman that was unreasonably told I only have three years left to live.
On my journey, I would lose my train of thought in mid-sentence due to over medication. I was misdiagnosed with mental disorders, fibromyalgia, and even being held against my will. All are signs of a medical system that lacks in compromising options in being healed.
In 2014 I divorced and left my husband for MYSELF. That is when my truths of the programming that are considered taboo were brought to my attention. I found I had connections that scientist's study and are searching for answers. We all can be superhuman. All we have to do is dive deeper within and believe in ourselves. Inner research is called real Alchemy, and this is what brings growth within the human mind and spirit. Change, smile, and do it with Unconditional Love. Do it with Integrity and Innovation.
DO IT FOR YOU!
I am no longer medicated. I am no longer ill. – I AM. WE ARE.  There is no shame in posting my story because the mind can never again overpower me with untruths brought about by those that do not understand. Share your story. We are not alone. Just know that you are heard and understood.
I wish the best to you all!
Thank you,
Tara
You can learn more about Tara Pobuda's teachings at her inspiring website ReuniteYourSoul.com.
---